You'd never know that Ginny Yurich has inspired a global community by the way that she talks about herself. "I'm so normal," she says. "There is nothing exceptional." But the humble mom of 5 is the founder of 1000 Hours Outside, a blog and international movement to put down the screens and set an intention to go outside. 1000 Hours Outside challenges folks to get outside for just that: 1000 hours per year. Families post about their efforts in social media groups, and Ginny supports them through her writing and engagement.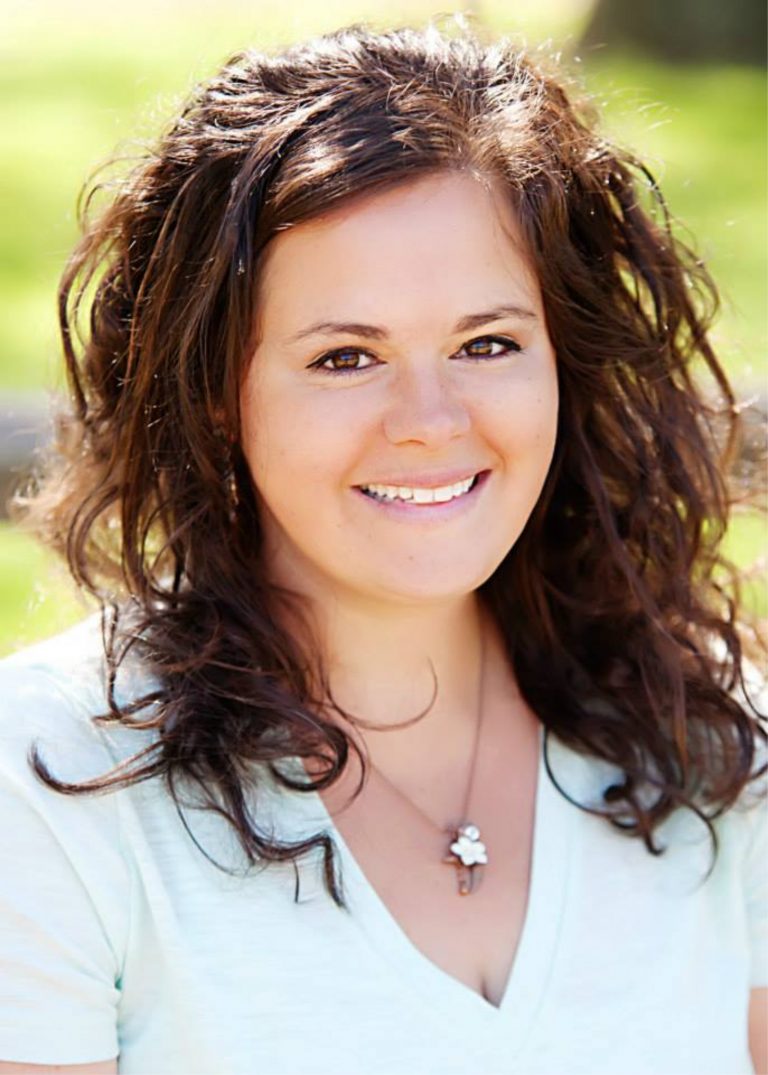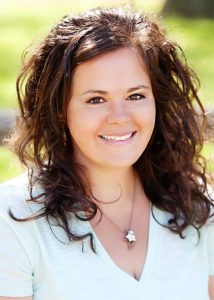 Ginny, who grew up in Michigan, remembers the little moments about going outside. "I grew up in total suburbia. There's an IKEA in my hometown. [It was all about] biking around the neighborhood, shoveling snow with my dad, making snow forts – those are the things that stick with me fondly." But, it really wasn't her own childhood outdoor experiences that inspired her to start 1000 Hours Outside. It was her challenging foray into motherhood.
"Some people transition into being a mom pretty seamlessly, but I feel like I did not," she says. "I was just absolutely exhausted. With a 3-year-old, 1-year-old, and a baby, I would run out of things to do by like 10 or 11 in the morning." Being a parent to three young children was overwhelming, and it was discouraging for Ginny.
A friend was reading the works of Charlotte Mason, a homeschooling educator who believes children should be outside for 4 to 6 hours everyday, and suggested that Ginny and her kids try spending four hours outside. "I thought it was ridiculous!" says Ginny. "But I was trying to be a good friend. So, we went to a park (but not a playground), brought a picnic, and stayed there from 9 AM to 1 PM… and they played the whole time."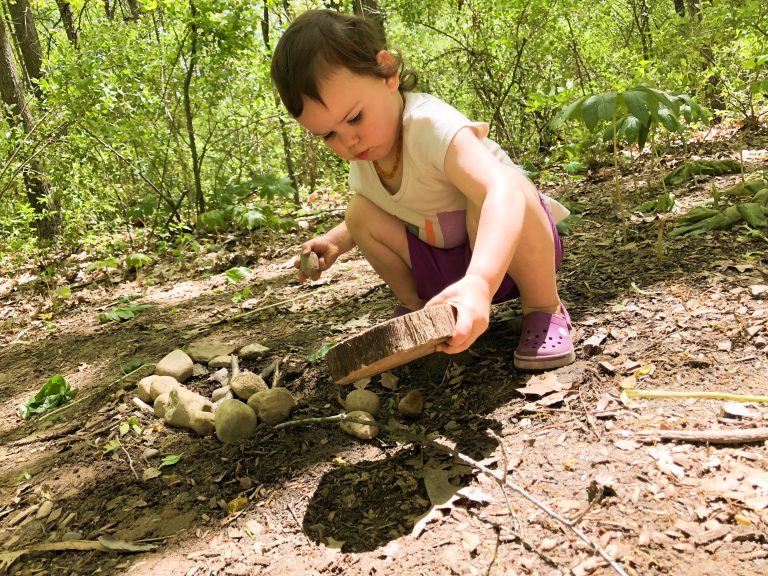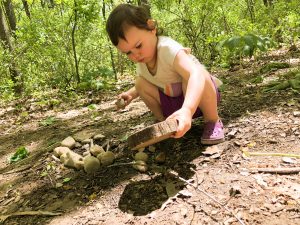 Ginny couldn't remember the last time she had done something with her children for 4 to 6 hours. "In our culture in America, everything is 30-45 minutes. You go to the church program: 30-45 minutes; you go to the moms' program: 30-45 minutes. Everything is in a box." Now, having stepped outside that box, Ginny felt for the first time like "maybe I will survive this stage of life." Like motherhood was do-able. Like she could achieve balance. "It's so silly, but I was just blown away, and it was just so restorative."
After that first day in the fall of 2011, Ginny began to carve out the time for nature. At least three times per week, she would go with some friends and their kids to the metro Detroit area parks.
"At first, it was for me," she says. "As a parent, you want to be in a good mental state…I finally felt like I could survive parenthood." And the impact on her children was visible. "Very quickly, the kids were developing. I'd say they were more 'ruddy,' more coordinated. They were truly thriving within a few weeks of it." And, so, they kept going. "I was noticing them balancing, climbing, trying something new always, challenging their bodies, without me ever having to prompt." She also noticed that her children were staying healthy, with no major illnesses over the last 9 years.
Of course, there were always challenges. "It's hard to get outside with little ones. Once you get outside, it's easy – but the path there is not." So, Ginny decided that they needed a goal. "You have to have a lot of grit to get out there, there's planning involved. It's cold, or it's hot, or it's buggy or rainy. There's not that many perfect days. Having that goal has been key. Even though we've been doing it for 9 years now, I still need that goal for myself, otherwise I will just sit inside."
1200, no…1000 Hours Outside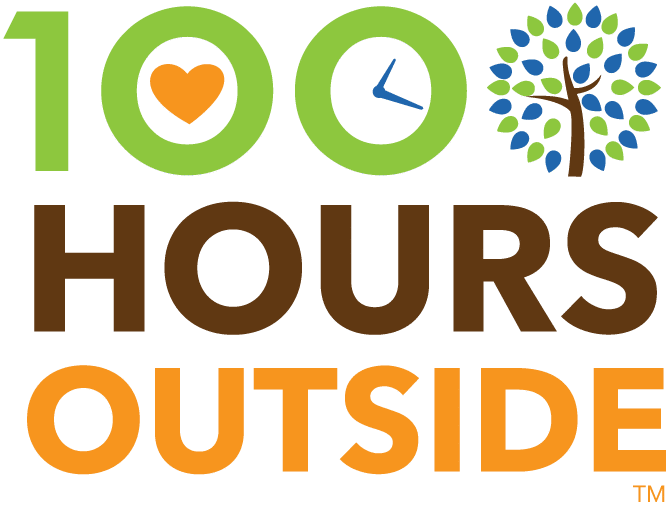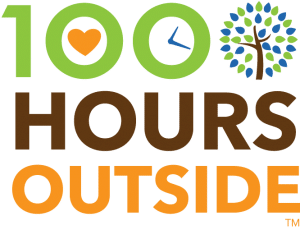 "I'm a math major – I'm a numbers person," said Ginny. So, when setting her goal, she did the math. "3 days/week of 4 to 6 hours, plus additional time on the weekends and evenings as a family added up to 1200 hours, which is approximately the amount of screen time children are getting across the nation." This provided a concrete balance for her and her family. So, they committed.
Throughout her weekly nature immersion time, she noticed that she, her friends, and their kids were the only ones in the park. At the playground, moms would come and go, but she would never see families out in the park during the week. "And when I say never, never."
Ginny wanted to share her family's experience: their nature-immersion lifestyle was free, she was building great relationships with friends and with her children, and it was positively impacting her kids. So, in 2013, Ginny started a blog and gained a small Facebook following. 1000 Hours Outside (adjusted from 1200 for a catchier title) was born.
In 2019, someone asked her to start a Facebook group, so she did. Now, the official group has almost 10,000 members. Smaller, community-based 1000 Hours Outside Groups have popped up. Ginny said that someone just started a group in Hong Kong. Individuals, homeschoolers, child care programs, schools, families with working parents; the group has inspired many to get outside. "I'm seeing my simple experience replayed all over the world," she says. "So many people commit to being outside and then realize 'Oh my gosh, I love it, I feel better – this is a great way to do life.'"
Her commitment continues to be to her family and their life together. Since their first day in the park in 2011, Ginny's family has grown from 3 kids to 5, but their approach "is really the same. Nothing has changed. It's the same, and it still works. My husband has been all for it. Our oldest child is in 6th grade. We're modeling passion for our kids. We can help our kids learn through experience."
What about screen time?
Ginny homeschools her 5 children in Michigan, and, like most, they are not an entirely screen-free family. For her, it's about the balance. She comments on the busyness of childhood today, calling it a "rat race." She wants her children to be resilient as screens become more pervasive, and a lot of that is helping them to see the joy in the outdoors. "When you take a child outside for an hour, or two hours, or four hours, you see how much hands-on, real-life experience happens in that time. They are missing that when they are in front of a screen. A 22 minute child program is over in the blink of an eye, but 22 minutes outside is filled with so much opportunity!"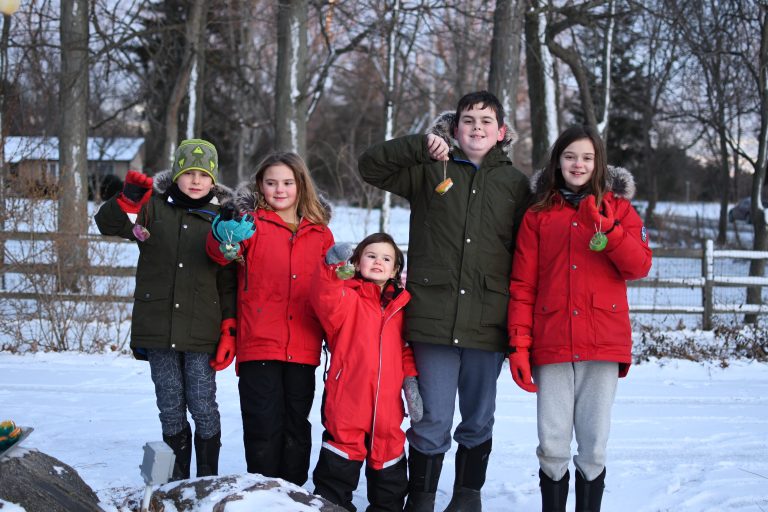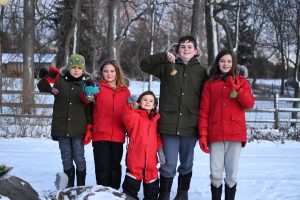 To paraphrase Richard Louv, nature amplifies time. For Ginny, it's also about simplifying parenting. "I really think screens make it harder to parent: you're dependent, they are dependent. Being outside teaches them to use their inner resources."
Ginny plans to participate in Screen-Free Week, May 4 – 10, with her family of 7 because "it really goes hand in hand with committing to being outside." Screen-Free Week can be a mini 1000 Hours Outside challenge, too.
Doing the 1000 Hours Challenge
There are a lot of other number-based initiatives out there for getting outside, like the 52 Hike Challenge and 30 Days Wild, but Ginny says the "the unique thing about 1000 Hours Outside is that it accounts for the seasons of life; there are certain times where you are struggling or you are swamped at work or you have more babies. You can mold it to your own families. If that 1000 hour goal seems insurmountable, then change it. The intentionality really is the key."
One single mom, who had their child 50 percent of the time, did the math and committed to 260 hours. Another family has decided to do 2020 hours in 2020. Some families, especially with infants, commit to 100 hours. Ginny encourages participants to meet their own needs and to determine what nature and outside time mean to them. It can be having a barbecue with friends or gardening on the patio as much as it can be about taking a hike in the woods.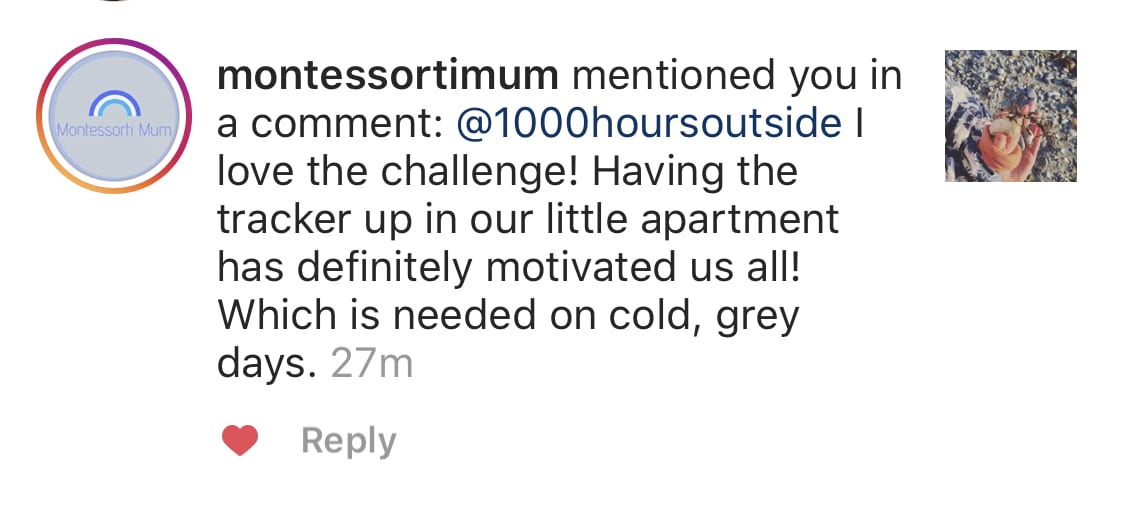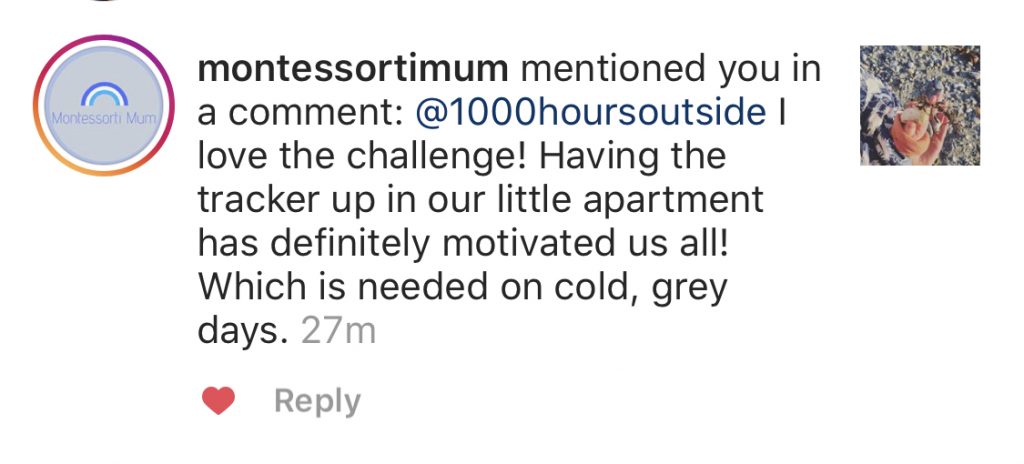 One of the tools that 1000 Hours Outside provides is a chart for tracking. "Most of us are not purposeful about outside time," says Ginny. "It's about bringing it to the forefront. Sometimes that means having a chart on the fridge. The impact is lifelong."
Ginny deflects the compliments about her work. "It's not me, it's the message. It's the permission. Nature is enough. It's a gift that we can slow down and really enjoy the years. And the kids will turn out alright."
The fear instilled in so many parents about doing it right prevents us from saying yes to so many opportunities. Can being intentional about screen-free, outside time bring joy and learning to your family? In Ginny's words, "Well hey, try it."
Join us for Screen-Free Week