We asked for a guest blog from teachers and parents at Marguerite E. Small Elementary School in West Yarmouth, MA, after reading an article about their engaging and creative Screen-Free Week in 2017. Events and activities last year included a tour of the tidal flats at a wildlife sanctuary, a "bike rodeo," free admission to local museums and attractions, library story-time, and a party at a local observatory. Teachers and parents shared their experiences with us. We commend principal Patrick Riley and all the teachers who have made Screen-Free Week such a memorable and meaningful success.
As an early education teacher for the past 25 years and a parent of four children, I have witnessed a change in the way children play: decreased problem solving skills, a lack of compassion toward others, an increase in obesity, a lack of experience with the outdoors and scripted play that lacks imagination. I believe that all of these changes can be linked to excessive exposure to media and a lack of experience with creative play.
Children learn through play using all of their senses. A major concern should be what children are not doing when they are sitting in front of a screen; they are not interacting and playing in their environment, they are not outside, they are not using their imagination, they are not discovering how something moves, they are not using their bodies and challenging their brains. This is not simply a weeklong project. I want to support and empower parents to create memories and experiences that help children learn both academic information and make them happy people who relate well with others. My goal is for children to hold on to the value of human connection amid this technology driven world so that they can make good choices and embrace life.
Screen-Free Week is all about creating, discovering and building new habits. It's about finding new interests and passions. It's important to emphasize what we are adding to the week (outdoor adventures, bike riding, library story times, museums, beach walks) as opposed to what we are giving up (screens). I also really want parents to know that boredom is not something that needs to be fixed. Boredom leads to new ideas, boredom sparks creativity and builds character. The first few days of Screen-Free Week are the hardest as kids are quick to turn on a screen when they feel like they are "bored." We have found that supporting families and brainstorming with them helps the parents let their children work through feeling of boredom and give their children the space and quiet to think and discover their own ideas.
Campaign for a Commercial-Free Childhood provided so many resources to make our Screen-Free Week a success. We picked the key CCFC handouts that we wanted to share with families on why we thought Screen-Free week was important, and we started talking to the kids about it. We thought it was important to send home encouragement to families and kids, because in this day and age, screens are everywhere, and we wanted to set kids up for success. We used CCFC's pledge cards, activities sheet, and completion certificate.
We brainstormed with the kids to come up with activities that they would like to do during the week. We contacted local businesses and organizations so that we could provide a variety of activities at our school and in the community that the kids could substitute for some of their screen time. In addition, we took each child's picture and put it on the wall at the entry to the school with the logo "I'm unplugged" at the bottom of the picture. This really helped to build the momentum as our wall began to grow. We chose a few children to share what they were doing for screen free week on the intercom each morning after the pledge. We celebrated all of the efforts at a school meeting and with a letter home to each family who participated. We planned many activities at school during the week to get all the kids out and connecting with their friends and neighbors. It was a week filled with wonder and discovery. Many of the families looked at their screen-time differently and added some new activities to their list.
I want to thank CCFC for supporting our families and teachers by providing the tools and inspiration to create and celebrate healthy, strong and resourceful families.
– Sue Gubbins, Early Education Teacher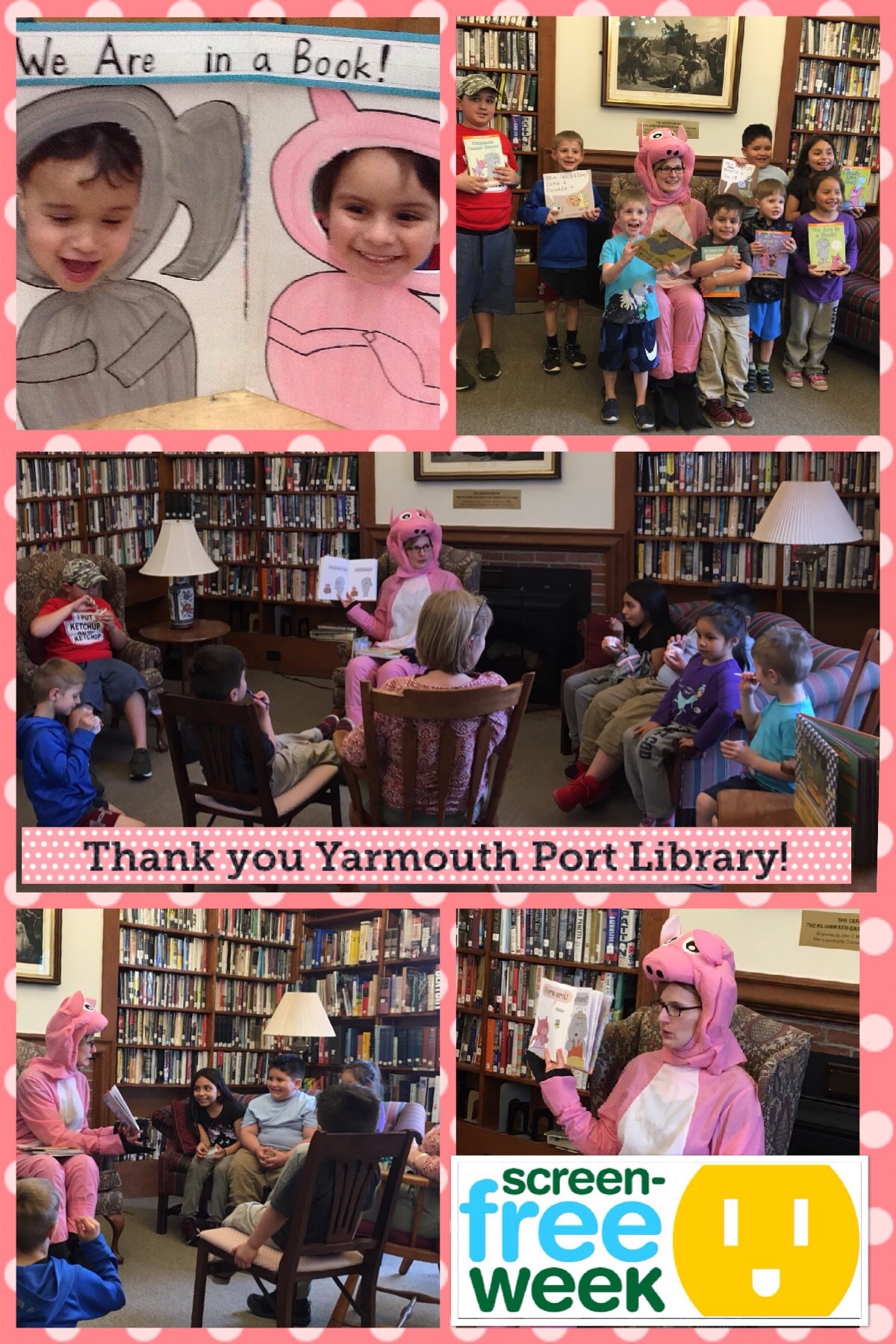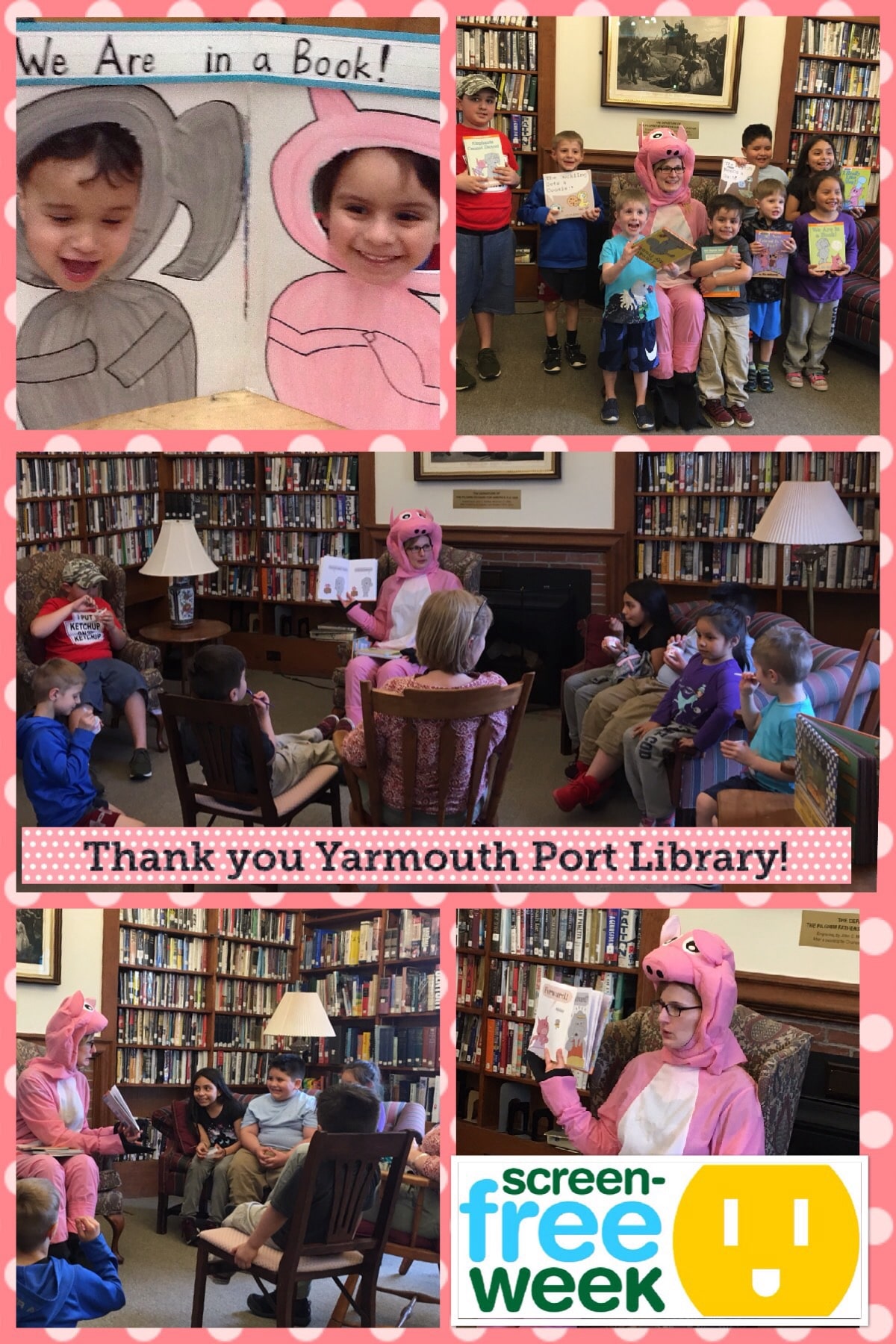 Screen-Free Week was a perfect opportunity to put my money where my mouth is. It was surprisingly easy to get kids and families involved. I'd already built a safe atmosphere of caring and trust.  A year of listening, talking, and learning with each other helped foster some genuine empathy among the class. They were a delight to be with; not perfect, but funny and open and willing to try anything! Selling them on Screen-Free Week seemed like a natural progression. They brainstormed ideas and shared about everything they and their families did. We had great conversations about the challenges and temptations we all went through.  On Friday morning I had to tell them that I broke down and turned on the TV. The response was, "It's okay, Ms. Hull. Me too." But then we continued to share about the fun we had during the week: a walk on the beach, baseball, fishing, board games, running club, bike rodeo, dancing, etc. The biggest take-away for room 104 was that for a little bit of challenge we had FUN!
– Meg Hull, Second Grade Teacher
I believe that there are many benefits to having a screen-free week. From a teaching perspective, I love to hear about all the fun and different activities that my students are doing with their families and friends. This year, I plan to have my students write about one day without screens and why they think it is important (or not). I also think that many children do not have as many opportunities to go outside, get their hands dirty, and use their imaginations because they are always using technology that is telling them what to do and how to do it.
– Donna Griswold, Second Grade Teacher
What I loved about Screen -Free Week was enjoying the activities the kids and I love to do with their peers and other parents. We shared tips on how limiting screen time helped our families, helped our daily routines and we built better routines that we have stuck with since. I realized how many games the kids could play with each other that I thought they needed me to help facilitate. I wasn't giving them enough credit and that was great as a parent to acknowledge and grow upon.
The boys are excited for it this year. Marshall just received a bike for his birthday and one of the first things he mentioned was using his new bike for the bike rodeo.
– Meghan Dehlman, Marguerite E. Small Elementary School parent
  Mother of Mason, Monroe and Marshall
I really liked participating in Screen-Free Week, it gets the kids off of the TV and away from tablets and phones and out and about to explore nature. When it comes to my kids it gets them to actually play with one another, instead of one watching this in one room and another kid watching something different in another while the oldest is in her room glued to her phone! It lets kids know that there's more out there than just a screen. Kids need to be running wild outside, falling and skinning their knees, finding a weird-looking bug, or trying to find shapes within the clouds. There are millions of things they could do outside rather than being locked inside actually watching OTHER kids play outside!
– Karina Hernandez, Marguerite E. Small Elementary School parent
  Mother of Mia, Victor, Selena and Willy