Screen-Free Week is an amazing opportunity to reboot, recharge, and rest. It also might get you thinking…
Why can't EVERY week be this mellow?
How did our family's screen habits get so out of control?
Why am I still reaching for my phone three days after I stuffed it in a drawer?
Sometimes it takes the act of removing something toxic from our lives to realize how just angry it has made us.
While Screen-Free Week is a positive event, it was created to address a pretty negative phenomenon, namely the fact that our entertainment screens are sucking up huge chunks of our lives. It's OK to be grumpy about that.
Why not put those feelings to work and devote some of your Screen-Free Week to activism and advocacy, in addition to, the rest and relaxation?
Sound intriguing? Here are some ideas to consider.
Are you worried about kids and screen time?
We are too. That's the whole mission of Fairplay, the host of Screen-Free Week and the Screen Time Action Network. Both could use your help.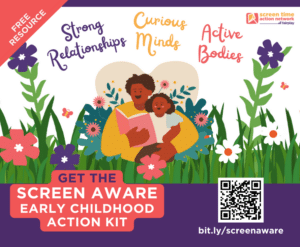 We'll be needing all hands on deck in the coming months to help support new legislation surrounding kids and screens. Sign up for Fairplay's email list to learn more.
If that's not your thing, consider joining one of the Action Network's work groups on topics like online harms, nature and play, screens in schools, and mental health, or downloading their new Screen Aware Early Education Action Kit. Or, simply become a member.
Are you worried about LGBT+ online hate?
We are too. It's particularly rampant in social media. In fact, 40% of LGBTQ+ adults and 49% of transgender and nonbinary people say they do not feel welcomed and safe on social media.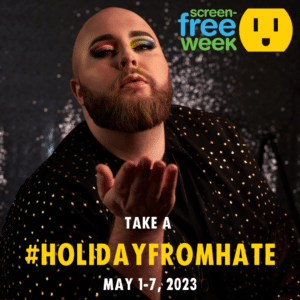 So, what if you dedicated your Screen-Free Week to taking a #HolidayFromHate—a campaign started by Screen-Free Week teen volunteers? The goal is to go dark for one week on the social media platform of your choice, wherever you find cyberbullying, trolling, and online hate the worst against LGBT+ and other marginalized communities.
Be sure to pair your "holiday" with a little action, too. Let your social network know why you're taking the #HolidayFromHate, share the hashtag, and send an email to that platform letting the owners know that people's lives, voices, and safety deserve more respect.
Also, if/when you return to that platform on May 8, get ready to start using that block or report button to take a more active role in reporting hateful posts.
Are you worried about teenagers?
We are too… and many of them agree with us! That's why teen volunteers are also running a Screen-Free Week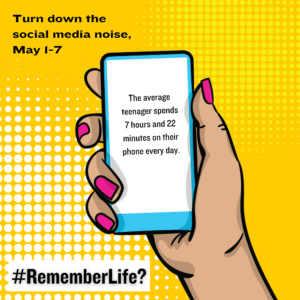 campaign to encourage young people around the globe to take a week off their most toxic social media accounts.
The campaign is called #RememberLife? It's a chance for youth to reflect on the parts of their lives they've lost touch with because of social media, or the parts social media may have damaged. Before their phones took over their lives 24/7, teens were just kids with hopes and dreams. Remember those?
We grown-ups aren't invited to participate in this particular campaign (WE remember an entirely different kind of teenage life!) But our teen volunteers would love it if we invite the young adults in our lives to follow the hashtag on Instagram and TikTok, share their stories, and take a break, May 1-7.
Need more ideas for taking action during Screen-Free Week, especially when you have younger kids at home? Check out our Screen-Free Saturdays blog post, called "Unplug to Help" for kid-friendly ways to take your Screen-Free Week to the next level!