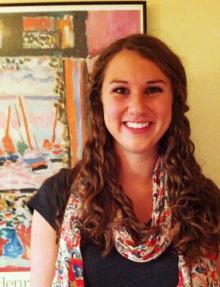 Sara Hamilton was raised TV-free in West Virginia.  She is a freshman at Yale, where she writes for Yaleepicurean.com and works part time for The Yale Center for British Art.
I don't have a TV. There. I said it. I can picture your face, blank stare, uncomprehending.  I've seen it hundreds of times. And then I have to launch into explanations. No, no television anywhere in my house. No, I'm not Amish. No, my parents aren't hippies or Quakers or Nazis. Yes, I know what a TV is. And on and on and on. But the real explanation is not even really an explanation. I simply don't have one, never have, maybe never will. I just looked it up—99% of Americans own at least one television set. Along with this statistic I found several articles, all speculating about the true nature of those radical enough to go TV-less, one even going as far to say that TV occupies a spot among food and shelter as one of the basic necessities of life. Yet somehow, I do not feel at all extreme, and definitely not deprived.
As a kid, I never knew I was missing anything. Instead of watching TV I read. And read, and read, and read. My mom would take me to the library once a week and I would return home with the library's limit of 20 books per visit, my worn tote bag bursting at the seams. Instead of watching Hey Arnold or playing N64, I spent my time immersed in the fantastical worlds that books created for me. I solved mysteries alongside the Boxcar Children and sipped tea with Alice and the Mad Hatter, rode in a flying Ford Anglia with Harry and Ron and braved the frontier with Laura Ingalls, battled a dragon with Bilbo the hobbit, and helped Matilda take down the evil Ms. Trunchbull.
But when I got to middle school, I suddenly realized that I was different, and I was ashamed. For years I tried to skirt around the fact that I was TV-less. I just wanted to be a normal kid, one who went home and laid on the couch channel surfing or playing Mario Kart, bag of potato chips in hand. I would beg and plead with my parents to give in and get a television, but they never caved.
As I got older, I slowly became less and less embarrassed by my lack of a TV.  Gradually, I have come to realize that living without TV has been more of a blessing than a curse. I easily avoid the "I tried to finish my homework but then that one show came on…" trap that so many of my friends complain of falling into. A lifetime of painting my own mental pictures rather than having them drawn for me has given me a daydreaming capacity unlike any other, and I can sit and think for hours without fear of boredom. However, most importantly, through not having a TV I discovered words, and came to love them.  I am constantly in awe of the power they have, and I don't think beautifully crafted sentences, with the power to tug heartstrings, paint beauty, or make the impossible into something nearly tangible, will ever fail to amaze me.