Okay, okay. It's a little cheesy, but don't we all just need a little more love these days?! Our kids especially need examples of ways to express love and receive love that are meaningful to them. So, in this Screen-Free Saturdays guide, we're offering a few ideas for a little love boost for your family and your friends.
 Hint: It all starts with unplugging!
Unplugged activities that show love!
Show your family, friends, neighborhood, and even yourself a little love with a few fun activities aimed at showing others you care!
Make friendship bracelets: Make some friendship bracelets, anklets, necklaces, or keychains using these fun patterns and pass them along to your buddies.
Send snail mail: Letter writing can be a wonderful way to show someone that you care or to be cared for. For kids, letter writing can be a combination of drawings, card-making, and written words. Check out our Screen-Free Letters of Appreciation Activity resource for one approach. Find it here.
Say it in a poem: Poetry is a fun way to explore rhyme, help kids express themselves, and to send a caring message. For younger kids, using a poem template can be a really fun (and funny) way to spread the love. Try this one on for size:
Roses are ______
___________ are blue
_________ is  ________
And so are you.
Take care of nature, too: Picking up trash, raking leaves for the neighbor, and helping with community projects can be a beautiful way for the whole family to take care of the planet! For trash pick up, pack trash bags, gloves, grabbers, and buckets and head on out to an area that needs your love. Be sure to teach your kids not to pick up anything sharp or otherwise dangerous.
Love ourselves: It is so important for children to see adults caring for themselves (taking breaks when they get tired or frustrated, setting boundaries, asking for help). Going screen-free, whether it's for a day or a meal, is one way that we can all take care of ourselves. Talk to your kids about what they love to do (unplugged), how they can take care of themselves, and why taking those actions can keep them feeling good.

Unplugging for better relationships
As adults, we know that screens can be a factor in our romantic relationships, sometimes positively, sometimes negatively. How do you have a healthy, balanced, and loving relationship in a digital world full of noise?" Read here.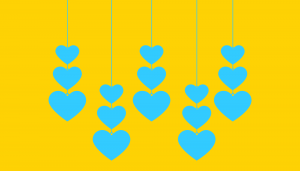 Love celebrated  differently around the world
Valentine's Day tends to be a western tradition (and in many cases a commercial tradition). Learn about different ways people show love on holidays across the world here.
Community Connections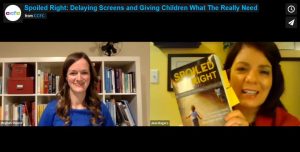 Show the love by SPOILING your children. Our recent Action Network Live! webinar, featuring Dr. Meghan Owenz, founder of Screen-Free Parenting and author of Spoiled Right: Delaying Screens and Giving Children What They Really Need, offered the much needed "what to do" answer instead of the heavy-handed "what not to do" mandates about children's screen time. Dr. Owenz makes it simple by explaining how to use goal science to reduce screen time by focusing on what children need more of, like social time, play opportunities, outdoor experiences, chores, and a strong relationship with reading. Check out the recording here!
Make sure to stay connected with all of our Screen-Free Saturdays ideas, resources, and fun by taking the pledge:
Happy unplugging,
Rachel Franz